2013-04-16
FZLED Introduces Ultra-Compact Portable Torch: Easy to Carry
April 16, 2013, Taipei, Taiwan – FZLED, maker of high-performance LED lighting products, is pleased to announce the ultra-compact portable torch FZL-2110. With the compact size and elegant design, the 1W LED light emits 70 lumen of Nichia, is designed to be a portable light for any portable use of consumer, suitable for business men, students, office ladies, as well as a good choice for customized corporate gifts.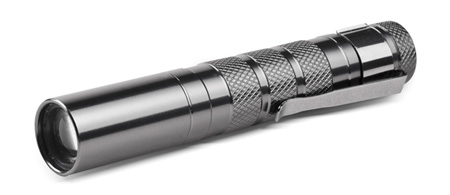 The compact design is made with quality aluminum alloy with anodic treatment which is totally made in Taiwan, is extremely durable with high quality performance. The ultra compact size measuring 105 mm long and with diameter of 16mm, weighting only 0.03 kgs, it features lightweight, portable and easy to carry. The torch adds a thoughtful design which is pen clip, offering conveniences for users to carry on shirt pocket.
The FZL-2110 comes with two functions – power on and power off. The LED lifespan is more than 50,000 hours. With an estimated run time of up to 10 hours when using fresh batteries, it is able to produce up to 50 m illumination. The portable torch has gained IP54 certificate which is anti-dust and water repellent, operating temperature for LED is minus 20 C to 50 C, and moreover the beam angle is 30 degree.
The LED torch uses lower power consumption to produce bright white light. Emitting no heat, UV or IR light radiation, FZLED is extraordinary in providing glare free and energy-saving lights compared to traditional torches. Portable torch is now available in Taiwan, Singapore and Thailand. FZLED sincerely welcome enquiries from distributors, wholesalers, and retailers, as well as the enquiries for OEM/ODM services.
Applications
Hiking
Camping
Home maintenance
Features
• High quality Aluminum alloy made with anodized finish
• Elegant design with Pen clip
• Lightweight, portable and easy to carry
• Extremely durable
• Water repellent and Anti-dust
• Made in Taiwan High quality performance
• No heat, No UV, or IR light radiation
• Uses high power LED
• Long lifetime
• Lead-free, Mercury-free
Specifications of the FZL-2110 LED portable torch
• LED: Nichia
• Lumen: 70 lm
• Power consumption up to 1 W for FZL-2110
• Input power: 1 x AAA batteries ( up to 10 hrs estimated run time when using fresh batteries)
• IP54: Water repellent and Anti-dust
• Long lifetime up to 50,000 hours
• High brightness (up to 2400 lux at 1m)
• Operating temperature (for LED): -20 to +50C
• Net weight: 0.030 (±10%) kgs
• Dimension: – Ø16X 105(L) mm
• Beam angle: 30D
• Illumination up to 50 m
• Functions: On/Off
About FZLED
FZLED is a Taiwan-based manufacturer and innovative designer of high-performance LED lighting products. As a sub-division of FZtech Inc., FZLED's products have superior mechanical and thermal designs, utilizing the expertise of FZtech. Committed to excellence, FZLED follows a strict TQC for the entire manufacturing process, and conducts R&D projects continuously in an effort to create LED lighting solutions that offer light-weight, high-quality, environmentally-friendly, innovative, and thermally-optimized products to consumers. For more information visit FZLED online at www.fzled.com.tw.
PR Contact
FZtech Inc.
TEL: +886 2 2228 7885
E-mail: PR@FZtech.com.tw