2013-03-07
FZLED Releases T8-07 LED Tube Light Series: Installation without Lighting Fixtures
Mar 7, 2013, Taipei, Taiwan –FZLED, maker of high-performance LED lighting products, adds a new model today to their line of T8 LED Tube Lights – FZL-T8-07. The new model uses SMD LED, 6 to 22 watt, high-performance LED light source series products in one feet (30cm), two feet (60cm), and 4 feet (120cm) long. FZL-T8-07 is a direct replacement for traditional T8 tubes with an AC voltage range of 100-240V. It can be easily installed in any space without lighting fixture, is designed for commercial and residential lighting, in application of several advertising lighting, ceiling panel lighting and outdoor lighting boxes.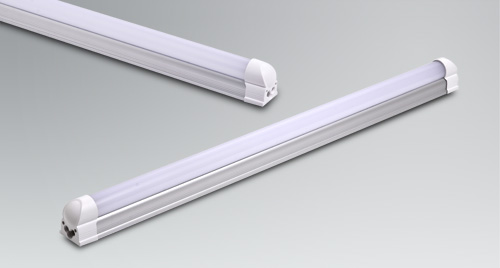 FZL-T8-07 can be used by consumers immediately without complicated installations. It is easy to install and mount the wall without lighting fixtures, by firstly stabilize mounting bracket on mounting area with screws, and secondly snap tube fixture onto the bracket, therefore, connect to AC circuit. The tubes can also be connected as parallel and serial connections by connected wire, extends the tube length and illumination area with ease. It provides the most conveniences for consumer to light up the space easily. With lifetimes of at least 35,000 hours these high-quality LED lighting products are excellent for indoor, architectural, flood, and mood lighting.
This series has 6, 12, 22 watts of power and have a luminous flux of as much as 2200 lumens. Consumers can choose models that have bright 6000K CCT, softer 4000K CCT, or softest 3000K CCT. With high power-conversion ratios, replacing traditional T8 tubes with FZLED's T8 LED Tube Lights can provide over fifty-percent in energy savings. Emitting no heat, harmful UV or IR rays, using no mercury, and with significantly reduced CO2 emissions, compared to traditional T8 tubes, FZLED's T8 LED Tube Lights are eco-friendly and a lighting solution that users are satisfied.
This new release gives FZLED customers a brand new option of LED tube, FZLED continues to successfully build on their commitment to providing consumers with many options to meet various lighting needs and offering products that are innovative and environmentally-friendly. This series will be available soon in Taiwan, Singapore, and Thailand. FZLED welcomes global distributors to bring it worldwide. For more information please visit FZLED online.
Applications
• Indoor Lighting
• Architectural Lighting
• Flood Lighting
• Mood Lighting
• Biological Lighting
• T8 replacement
Features
• Energy Saving
• No heat, No UV, or IR light radiation
• Light source: SMD LED
• Long lifetime of more than 35,000 hours
• Power consumption up to 22W for different length of FZLED T8
• Easy installation
• CE, FCC approved (Driver)
• Mounting bracket included
• Grounding included
Specifications of the FZL-T8-07 LED Tube series
6W

12W

22W


Luminous Flux (lm)

355(±10%) 3000K

425(±10%) 4000K

500(±10%) 6000K

710(±10%) 3000K

850(±10%) 4000K

1000(±10%) 6000K

1600(±10%) 3000K

1800(±10%) 4000K

2200(±10%) 6000K

Power Consumption (W)

6

12

22

CCT

3000K / 4000K / 6000K

3000K / 4000K/ 6000K

3000K / 4000K / 6000K

Lens

Frosted

Frosted

Frosted

LED Voltage

12-22V

28-32V

39-43V

LED current

300mA

340mA

480mA

Power Factor

>0.9

>0.9

>0.9

Input Voltage

AC100-240V

AC100-240V

AC100-240V

Socket

3 Pin

3 Pin

3 Pin

Beam Angle

120 degree

120 degree

120 degree

Dimension (mm)

1 feet – 33.5×42×300

2 feet – 33.5×42×300

4 feet – 33.5×42×1200

Net. Weight (kgs)

0.150

0.250

0.480

Operation Temperature

-20℃ - +40℃

-20℃ - +40℃

-20℃ - +40℃
About FZLED
FZLED is a Taiwan-based manufacturer and innovative designer of high-performance LED lighting products. As a sub-division of FZtech Inc., FZLED's products have superior mechanical and thermal design, utilizing the expertise of FZtech. Committed to excellence, FZLED follows a strict TQC for the entire manufacturing process, and conducts R&D projects continuously in an effort to create LED lighting solutions that offer lightweight, high-quality, environmentally-friendly, innovative, and thermally-optimized products to customers. For more information visit FZLED online at www.FZLED.com.tw.
PR Contact
FZtech Inc.
TEL: +886 2 2228 7885
E-mail: PR@FZtech.com.tw